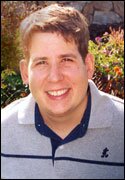 Student?s Name:
Mikk Behr

Student school:
Sherman College of Straight Chiropractic

Student major:
Doctor of chiropractic

Graduating year:
Spring 2006

Activities you are involved with:
Tour Guide program at Sherman

Favorite place on a Saturday night:
At the movies, provided there is something good to watch!

Favorite place on a Sunday afternoon:
At my pad watching football with my friends

Favorite place for a cup of coffee:
The Starbucks at Barnes & Noble

A special place in Spartanburg you have discovered:
New China (Chinese restaurant) on East Main Street

Favorite place to go when you have free time:
Walt Disney World over breaks ? Starbucks in between classes

Favorite place on campus:
Inn-Ate Café; just hanging out with fellow classmates

Favorite place to by CDs:
Best Buy

Advice for new students coming to Spartanburg:
Make time to hang out with your friends and fellow classmates during the school week and on weekends.
Try to study for exams in small groups (3 people max).